A new solution for accelerating learning and development
Inland Technology's SMART Interactive Whiteboard transforms teaching at Murrurundi Preschool.
Education
Murrurundi Preschool
Murrurundi Preschool is a community-based centre that caters for 3 - 5 year olds. The Preschool offers early childhood educational programs for children in the Murrurundi rural area in the Upper Hunter region of New South Wales.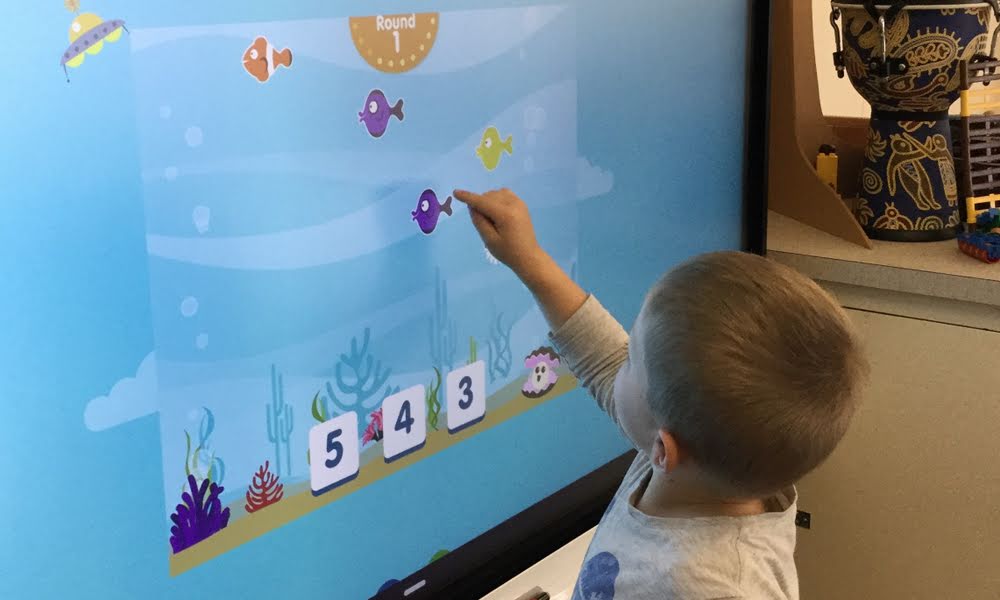 The Challenge
Preschool Director Donna Hopkins runs an interestbased program tailored to their children's individual needs. The program was paper-based until three years ago, when iPads were introduced as a learning accessory – but Donna explains that trying to crowd 10-15 children around such a small screen had proved challenging.
The team has been looking at introducing new technology to assist with learning and development, but funding had been scarce.
The Solution
Inland Technology had previously provided the preschool with a printer, and it was through their existing connection that Donna and the school's team of educators learned about their interactive whiteboard. The school managed to obtain partial funding for the whiteboard through a grant obtained via the education department, and the preschool committee was able to raise the remaining funds.
Donna explains some of the many ways the whiteboard has been used since its installation:
"IT'S ALREADY PROVED TO BE HIGHLY VALUABLE IN SO MANY AREAS. I'VE BEEN ABLE TO USE IT TO HELP DEVELOP THE CHILDREN'S ABILITIES IN EVERYTHING FROM WRITING THEIR OWN NAMES TO PLAYING INTERACTIVE COUNTING GAMES, TAKING PART IN NUMBER RECOGNITION SEQUENCES, AND LEARNING AND MEMORY GAMES TO HELP BUILD RECALL – WHICH IS A VITAL SKILL FOR ENHANCING LEARNING ONCE THEY GO TO SCHOOL."
The whiteboard also offers access to the internet, so the children can delve further into subjects they're interested in. As Donna explains, "we've even been able to take the kids on a virtual tour around the world using the smartboard and been able to teach them how to do everything from saying hello in Spanish, to counting to 10 and singing songs in various different languages."
"Having this enhanced visual element seems to have helped accelerate their learning, because it adds an extra dimension that they can easily relate to. It enables the children to work more interactively with technology, educators and peers in group activities. They're not just sitting down and listening but are able to engage in a more meaningful way. It offers them another source of learning, and it's one that's already extremely familiar to them, given the younger generation's familiarity with computers and technology."
The whiteboard's lesson programs can even incorporate related YouTube videos, which have been pre-chosen and are safe for the children to view. And connecting apps to the board, Donna and her team of educators can more effectively teach their kids everything from learning left from right, to core body strength lessons so they're able to sit comfortably for longer periods of time.
"From developing their attention span to strengthening cognitive ability, even teaching social skills, this has been a really useful addition to the classroom. It will enable our class to interact via the smartboard with other classes, both in other schools within our own community, and even around the world."
THE CHILDREN ARE DEVELOPING QUICKER SINCE THE INTRODUCTION OF THIS TECHNOLOGY.
The Results
Donna explains that the children are developing quicker since the introduction of this technology. "Their abilities and knowledge have been expanded, and they are more engaged with this method of teaching than they would be with a standard teaching practice. New learning is so easily available, and that accessibility has made the kids well-rounded, better engaged, and given them greater curiosity, especially given the visual aspects of technology."
On an individual level, Donna also says that the whiteboard has been a great method for supporting kids who have specific interests, enabling them to really drill down and explore a subject they find fascinating, while still working for the needs of the class as a whole.
"It's also been great for their confidence levels", she says. "For some of the more reserved kids, it's really worked to bring them out of their shells and give them more confidence to stand up in front of their peers as they use the technology."
"We're really happy with Inland Technology's innovative solution to learning and development", Donna concludes. "Even their aftercare and ongoing support has been second-to-none. They've been in regular contact since, they've offered further training and great after-sales care, and they've taken us step by step through a lot of the products and features we weren't previously aware of."
"I'd definitely recommend this to other schools. It opens up so much more learning to the children, and I'm really excited by the possibilities of this new technology."