In today's day and age, it is nearly impossible to live life as we know it without coming into contact with items from the print industry.
Like many other regional organisations, we generate waste, however our intention is to create no landfill by recycling and e-Wasting packaging,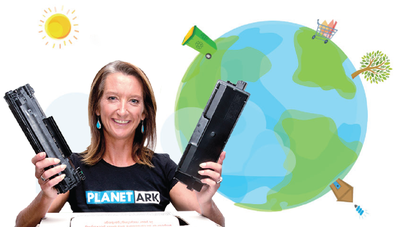 consumables and end of life products.
We encourage our customers to do the same, joining Cartridges 4 Planet Ark, an innovative recycling program that provides you with an easy and environmentally friendly way to recycle your used printer cartridges, to promote waste reducing behaviour.
Cartridges 4 Planet Ark is a trusted program that gives everyone, whether you're a large organisation or a smaller workplace, access to recycling their printer cartridges via our drop-off sites: Armidale, Tamworth, Dubbo and Moree, or through workplace collections. Since 2003 the program has recycled over 46 million cartridges world wide, with zero waste to landfill. We are proud to be a part of printing history in the making.
We also partner with suppliers such as Canon, Toshiba and Ricoh who share our commitment to the environment, and are proud to offer products with award winning energy efficiency ratings. The innovative technology our products feature helps minimise energy consumption and CO2 emissions, and the print hardware incorporates recycled materials.
We truly believe that adopting sustainability measures is not just the right thing to do, it also makes good business sense. We have happily noticed an increasing trend with our existing clients that sustainable solutions are quality options.
With the cost of electricity and paper increasing, we use the latest print technology and document software to reduce our own paper consumption and utility costs, and we can help our clients to do the same.
If you would like to know more about how we can help with a sustainable solution for your workplace contact us today.