New Whiteboard technology transforms learning for one NSW preschool
Eyes across Australia's education and training industry are currently firmly fixed on Inland Technology's SMART Interactive Whiteboard
Education
Ooranga
"Ooranga – which appropriately enough means 'place where children play' – has been operating for 40 years as a grassroots organisation providing services for kids in small rural communities. Today we have 8 different preschool venues that operate 2 days each week, teaching around 70 children, and employing over 20 staff."
Managed out of Gunnedah, the not-for-profit has temporary schools in community-owned facilities not purpose-built for childcare, enabling them to deliver preschool in local communities where no other reasonable access is available. "Essentially we're here to ensure that kids in the bush have access to the same high-quality early childhood education as their metro and city counterparts," says Rebecca.
As she explains, the preschool has faced a number of barriers over recent years. "In general, farms are getting bigger, so population numbers in rural communities can diminish, which can be a problem for us. Additionally, technology is an issue, particularly in regards to the rising cost of service delivery. That makes it a bit trickier for us to access the same resources for the same funding – and services like fast internet are also often less accessible and less efficient in the remote communities in which we operate."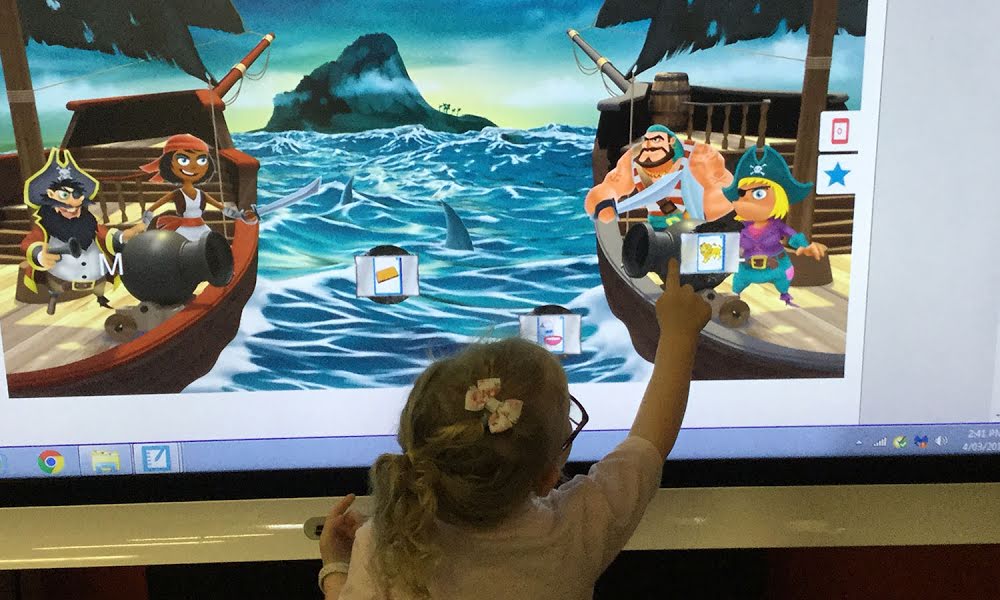 The Challenge
Opportunity granted
The opportunity to buy one of the boards came about as a result of the preschool's new efforts to target specific funding opportunities. "We're being incorporated into the National Quality Standards this year after a change in legislation, and there's been a shift in focus onto rural early childhood education and care. It means we're much better placed to deliver the quality services we want to deliver to young children."
"We already had a couple of old-fashioned smart whiteboards at a couple of venues, which aren't interactive," continues Rebecca, "but the new interactive ones looked like a huge improvement, enabling us to add all kinds of new activities and opportunities for learning. Luckily, we were able to obtain a grant to ultimately buy two boards for use on two different sites."
The Solution
Learning transformed
Rebecca says the contribution the boards have already made is nothing short of remarkable. "The kids are loving them, and are very motivated to be involved – and the staff are too. It's given them a way to add something different to their programs, which they're really enjoying."
"We've been able to get kids to take part in activities like games targeted towards identified learning outcomes – so things like
letter and name recognition, learning colours and shapes, even some great interactive drawing activities

, which enables them to engage in a much more interactive manner. In this way, our lessons have become a type of 'whole-self' program, enabling kids to interact more, so they have a

better opportunity to engage, learn and digest information

."

Rebecca and the team plan to use the boards to enhance learning, as well as allow students to collaborate with each other, and even between schools. "The two venues with new whiteboards share a day of service each week, and they have the capability to interact across the two different sites, both with each other and even with other preschools around Australia," she says. "That functionality relies on good internet, so we're hoping that can become a reality over time for our region."
The Results
Service and support
When it comes to sales and support, Rebecca says she found the input from Inland Technology to be second-to-none.
"The support has been fabulous. The service side was great, and they really took the time to come in and set everything up, and then give our team the training they needed to start using the technology.
"There's a lot of capacity in the technology, and we just need to keep learning how to harness it. Obviously, there's a process involved and it's a journey to get to the point where we are using it to it's full capacity – but Inland Technology have been with us every step of the way."
The capacity within the technology makes these SMART Interactive Whiteboards an incredibly valuable addition," Rebecca concludes.
"We've found them to be really fantastic, both for the kids and also for our staff, and I can't recommend them highly enough."
Learn More
Make an appointment with one of our specialists to learn more about our range of productivity-boosting technology solutions. Call 1300 INLAND today.